Every mom has a different journey, a different experience, and different expectations. There is no handbook on "how to be a mom,"- but one thing is for sure, you can definitely prepare a postpartum checklist to at least be ready with your postpartum essentials once you finally meet your bundle of joy. In this article, we will be discussing postpartum essentials for moms and postpartum supplies for newborn babies to help you ease your way into motherhood.
These will only touch the surface of the topic, and we suggest that you check our blog for other topics regarding motherhood and new moms` life. We have recommended products from companies that have proven to offer high-quality products. These types of items have played a crucial role in my maternity.
Let`s dive in and understand what the products that we recommend are and why!
Reading plan:
*Disclosure: Some of the links below are affiliate links. This means that, at zero cost to you, we will earn an affiliate commission if you click through the link and finalize a purchase.
Postpartum Belly Wrap
The postpartum belly wrap, sometimes called a belly binder, is used after birth, especially by those who have undergone a Cesarean section. The benefits of using postpartum belly wrap include pain relief, increase in blood flow, helps with your posture, helps with the healing of incision and muscles, and lowers the swelling from the surgery. You can check this one from
ChongErfei
that has over 35000 reviews! 
The material of this product is breathable and comfortable. It is high quality but also lightweight. The postpartum belly wrap reduces swelling and also helps the body get to its original size faster. This is a great gift, and on top of everything, it is adjustable, which makes it a good fit for almost all women in a postpartum period.
Nursing bra and Pumping bra
 Having your nursing wear ready after giving birth will give you the comfort you need when you start breastfeeding your little one. This means that you do not have to roll up your shirt up and be "too exposed" when feeding your child.
Nursing bras have been one of the wisest purchases I have made after I had my first child. They have been such a great accessory for all the times when I had to quickly start nursing because of my crying baby.
You can find some fantastic Nursing bras and Pumping bras at Momcozy! 
*Use the code MCSS10 and get 10% OFF on your order!
Cooling Pads
Cooling pads can provide you comfort and relief, especially after standard delivery. This should be a part of your postpartum checklist because this cold therapy will help soothe irritation and vaginal pain after birth. Do not forget that cooling pads are different from standard postpartum pads.
We have chosen to recommend the brand FridaMom as an established company. Their cooling pads have over 7600 reviews with a rating of 4.6, which is a very high rating.
Their cooling pads do not need freezing, offer immediate relief, have a super soft top layer, cover the entire perineal area and absorb the unbelievable 260 grams of liquid.
If you are about to get cooling pads, find out how to choose the best postpartum underwear and what are our recommendations!
Breastfeeding Essentials
Some of the main breastfeeding essentials include nipple pads, breast milk collector, stroller organizer, and breastmilk storage bags. All these products will be used at different moments of maternity, but they all are super helpful.
Once you start breastfeeding, you will most likely need a stroller organizer so that you can organize your breastfeeding and baby accessories for the short walks outside. You will need a collector to collect breastmilk so that other people can feed the baby. Your breasts will most likely leak when your little one is not latching. This is when nipple pads come to the rescue. They will prevent breastmilk leaks and stains from going to your shirt. You may get the Reusable Nursing Pads and here all other breastfeeding essentials with 10% OFF by using the code: MCSS10.  

*Related: 10 Things I Wish I Knew as a First Time Mom Before Having a Newborn Baby
Breast Pump
Having a reliable breast pump is crucial for you to build a breastmilk stash to do other things that you need to do and not have your little one latch on you 24/7. You can choose either a manual or an electric breast pump, but the electric breast pump will make your life easier and save a lot of time as this will help you express milk faster and more efficiently. One of the things I regret after my boy's first year is that we did not get an electric one immediately. We tried to use a manual, and it did not work for me.
There are a lot of breast pumps in the market that you can check out. However, we will recommend those of Momcozy. They have great wearable electric pumps and a bigger portable breast pump with all accessories you might need. The wearable breast pumps are all under $75, and double electric portable breast pump costs only $59.99. You can check them Here! 
Prenatal Vitamins
 It is recommended to continue taking your prenatal vitamins up to six months after giving birth. This will ensure that you will have all the vitamins you need while breastfeeding your newborn. This can correct deficiencies after giving birth which can include anemia and calcium deficiencies. You can continue what is prescribed to you by your OB-GYN or try one of these from Nature Made. This is a company with over 45 years of experience, and this product has over 30000 reviews on Amazon.
If I am blessed to be a mother again, I will take vitamins 100% pre and post-pregnancy. In my first pregnancy, I had problems with my thyroid gland and iron, and I would like to do everything I can to protect my body next time.
*Related: The ultimate new mom care package: The best gifts for new moms!
Play Gym
The play gym or playmat is where your baby`s games will happen in the next 12 or more months. This is where your baby`s brain will develop the most and where it will learn most about the world. If you do not have one or have not heard of the importance of playmats, now is the time to reconsider this essential product. To help you the most, we have chosen a specific play gym that covers all the requirements a mother could have. The Play Gym by Lovevery is exactly what you need! The product is designed by child development specialists, crafted with safe, healthy and durable material. If there is one thing that you will need for your baby`s development, this is it!  
Are you about to be a mom? You might be interested to read our blog post on 10 baby on the way ideas for parents!
Newborn Wet Wipes
Wet wipes are essential for postpartum care, for your newborn, and even until your child grows to his or her toddler years. Wet wipes come in handy for cleaning about just everything – from breastmilk leaks and spills, quick clean-up after a diaper change, dirty hands and feet, and even soothing your baby in a hot summer day. Your newborn may develop rashes or redness when using the regular wipes, so make sure to use alcohol-free and unscented wipes for newborns like the ones Pampers offer. 
*Related: What is Child Rearing
Baby Carrier
After your baby is born, they experience quite an adjustment from living inside the warmth and comfort of your belly for nine months to the cold and cruel outside world. Carriers (baby slings) will aid your newborn in fully adjusting to the outside world.
Carriers reduce baby crying, increase baby-parent connection, and help with emotional development. Being hands-free and doing all your daily activities and the bonding benefit of being close to the baby are some of the most significant benefits I can share with you. My husband and I enjoyed every moment with the carrier. We still use it after the 13th month of our boy when he cries a lot because of the new teeth growing.
Right now, you can save 10% on your purchase from SollyBaby by using the code: ROOT10
SollyBaby offer great products for newborns like baby wraps, carriers, sleep gowns and much more. Check them out now and save!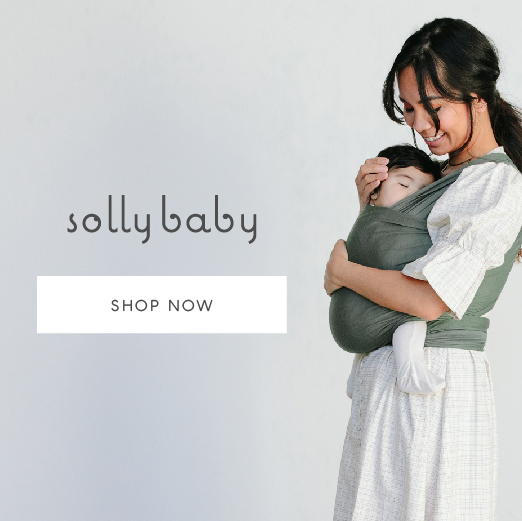 Newborn baby sets
Mittens, booties, and hats will help give comfort to your newborn, especially in the cold season. Initially, their tiny bodies have poor blood circulation, which means that they often feel colder than us, and the booties and hat will help them feel warmer and more comfortable. The mittens will prevent them from scratching themselves. You can buy them by piece or buy them in sets, for newborn baby girls, you can buy this, and for newborn baby boys, you can buy this. 
Conclusion
 I hope that some of these products will be really helpful to you and you will be able to use some of the offers we have included. If you get some of these products, I will be happy to understand more about your experience with them. Share this blog posts with other moms-to-be or new moms who will like it and use it!